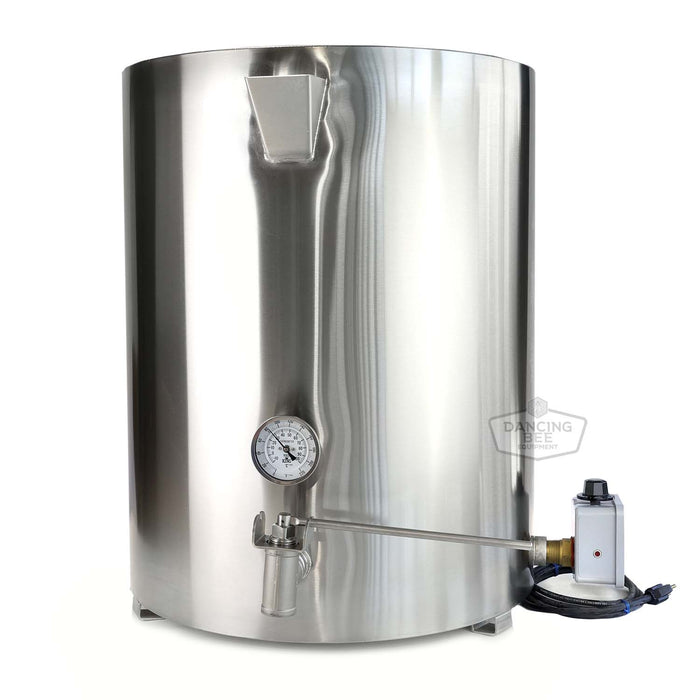 Dancing Bee Equipment | Bottling Tank | 35 Gal
Sale
Sale
Original price
$2,590.95
-
Original price
$2,590.95
Every honey house needs heated bottling tanks to liquefy crystallized honey. Dancing Bee Equipment Stainless Steel Bottling Tanks are top-quality value!
Designed and manufactured by Dancing Bee. Precision welded with craftsmanship.
16 gauge stainless steel. 20% thicker and stronger than 18 gauge, the industry standard.
Food-safe to meet and exceed food establishment guidelines.
Double-walled for gentle heating of honey, syrups, even soap or wax.
You'll love our lids! Uniquely designed and purpose-built.
Comes complete with stainless steel, no-drip valve. A Chromalox immersion heater with an adjustable thermostat and a water level gauge are also included. The built-in thermometer allows you to closely monitor your honey temperature.
Perfect for the hobby beekeeper and sideliner. Great for specialty honey bottling too.
Designed and precision welded, with craftsmanship, in Canada
Stainless steel folding lid with handle and sliding hose access cover
Hot water-jacketed, like a double boiler. No hot spots.
35 US Gallon, 136-litre Bottling tank holds up to 180 kg, 400 lbs
1" No-drip valve, site glass, 120 V, 1800 watt Chromalox immersion heater included
Built-in honey thermometer for precise temperature control
Exclusive to Dancing Bee Equipment
Dimensions H 28" x D 22"
Does Not Qualify For Free Shipping