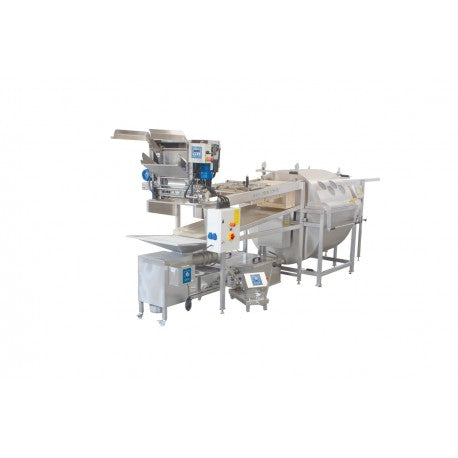 Lyson | Complete Mini Extraction Line | OPTIMA
Sold out
Original price
$30,500.00
-
Original price
$30,500.00
SPECIAL ORDER ITEM - Call 905-753-2623 or Email sales@dancingbeeequipment.com for more information.
Automatic honey extracting line with uncapping device, cappings extruder, horizontal honey extractor for 40 frames, honey sump and honey pump. A fully programmable controller (8 programs included), allows complete control over the entire process while a variable frequency drive ensures ultimate precision, with speed variance increments as little as 1%. Load and unload frames quickly with a frame cart and discharge rack that will hold a total of 40 frames.
System dimensions:
Approximately 16 ft x 4.5 ft. Recommended building size (minimum): 11 ft x 22 ft plus additional space for honey tanks, pallet maneuvering, and storage.
Horizontal extractor:

40 frame (two sections)
4.3" full color LCD display to access settings and monitor progress
Motor - 0.75 kW
Maximum extractor speed: 280 RPM
7-10 minute typical extracting time
Power supply - 230 V
2" ball valve 
Built-in Uncapping machine:
Power supply: 230 V, closed circuit heating system
Frame loader length:  150 cm
Frame receiver: single, 150 cm
Cappings extruder:
Efficiency - 100 kg/h
Motor - 0.55 kW
Power supply - 230 V
Adjustable auger speed - up to 9 rpm
Honey pump:
Pumps honey into barrels or bulk storage
Motor - 0.37 kW
Power supply - 230 V
Honey sump:
insulated

Baffles separate the floating wax from the honey.

Float valve controls honey pump

80 cm

Extractor frame loader:
Extracted frame hanger:
2 Year Warranty